(deutsche Version nachfolgend)
The materialization of 2226 not only supports the energetic concept but rather is integral to making it possible. This concept, as described in Take1, relies on achieving high insulation values, ​​and providing as much mass with high thermal inertia as possible to support the thermal stability of the building. The building's high thermal mass is achieved through the use of concrete floor slabs and thick brick walls.
To activate the building structure for heat retention, and to enable the desired heat exchange between wall and air to take place, cladding surfaces with sound-absorbing materials was not possible. Walls and ceilings had to be plastered, and carpets could not be used. Sound-absorbing materials could only be used in furniture. In addition to classic acoustic elements such as workplace partitions and upholstered chairs, for example, sound-absorbing lighting fixtures were also used.
The façade is a crucial element in 2226's energetic concept. It is designed as a single leaf masonry wall consisting of load-bearing brick (Porotherm N + F), insulating brick (Porotherm H.i N + F) and a lime plaster that together achieve a heat transfer coefficient of 0.14 W / m2K. The 80 cm thick facade is permeable and acts as a filter between outdoor and indoor climate. The loadbearing brick insulates less but is, in terms of thermal storage capacity, the more important element of the facade construction.
Like the exterior walls, the interior brick walls (Porotherm 25 SSZ HD) benefit from the material's high thermal storage capacity.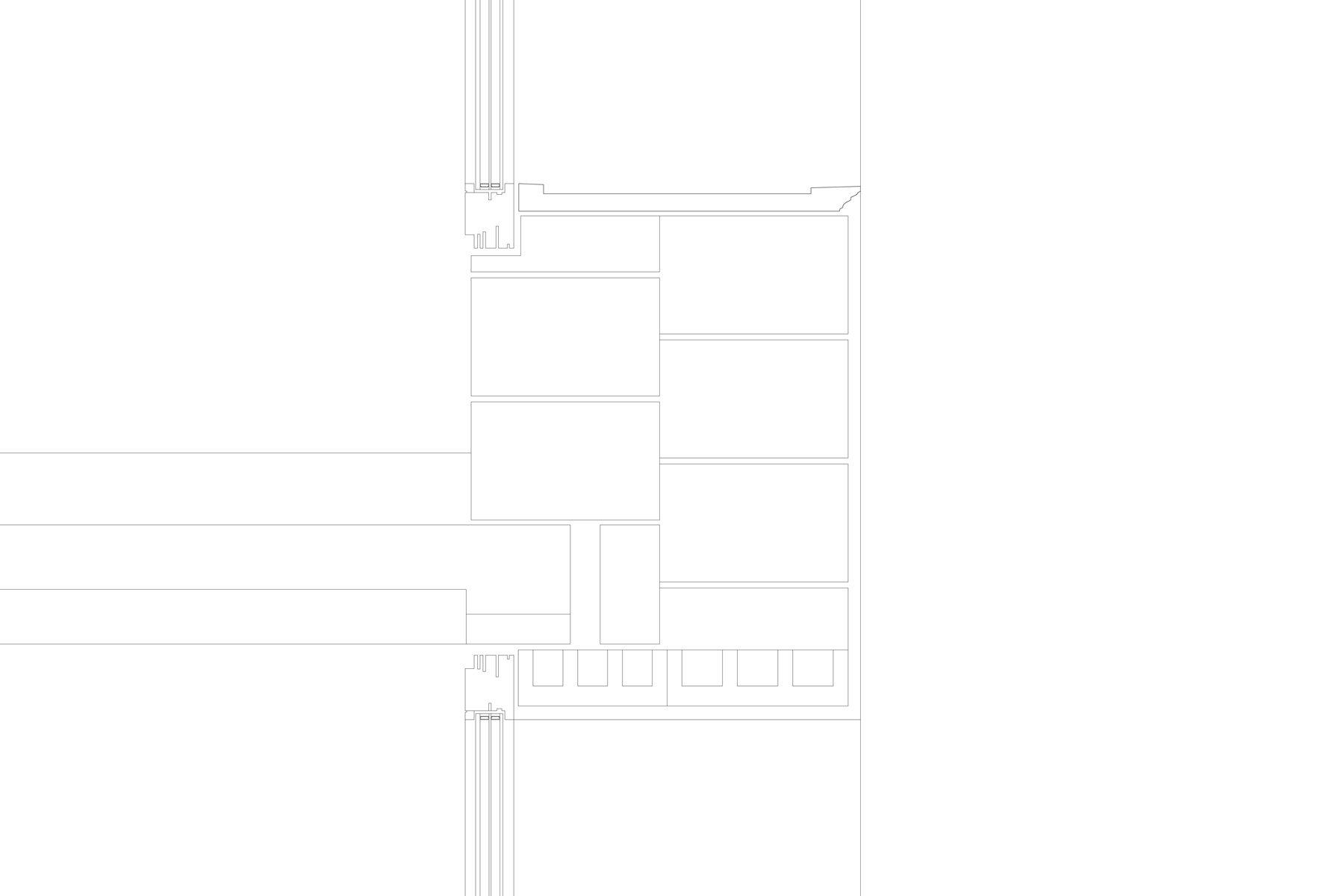 archplan, inc. © Baumschlager Eberle Architekten
Local resources
It seems obvious that this building's sustainable concept could not be limited to energy use. Great effort was made to source materials from the local area and if possible without chemical additives, so that the primary energy used for production and transport could be kept as low as possible.
bricks from Wienberger, Vienna (quarry and cley works, Haiding, distance 385km; Fürstenfeld, distance 600km; Göllersdorf, distance 575km; interim storage in Zirl, distance 170km)
lime plaster without artificial colors (Limestone from Bregenzerwald, distance 55km, fired in Wallgau, distance 190km)
timber windows (Hörbranz, distance 21km)
sandstone window sills (Rohrschach, distance 8km)
Lighting from Zumtobel, Dornbirn (distance 7km) (environmental product declarations EPD available for each product)
timber furniture / local manufacture (timber from the Bregenz Forest, distance 55km)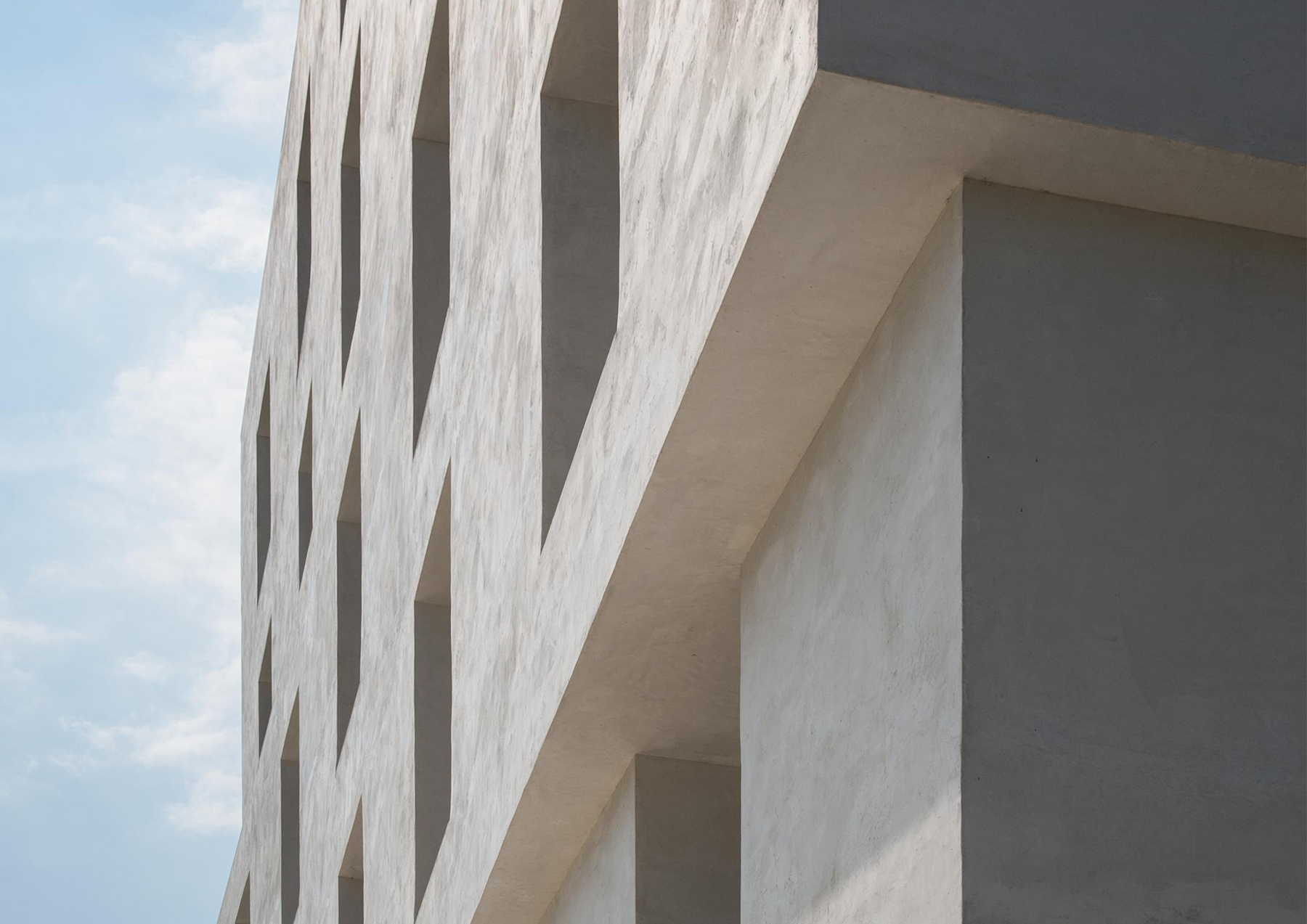 archphoto, inc. © Baumschlager Eberle Architekten
Thermische Stabilität
Die Materialisierung des Gebäudes 2226 ist so gewählt, dass diese das energetische Konzept nicht nur unterstützt sondern ermöglicht. Das energetische Konzept, wie in Take1 beschrieben, stützt sich darauf, einerseits sehr hohe Dämmwerte und andererseits möglichst viel Speichermasse für die thermische Stabilität des Gebäudes zu erreichen. Die grosse Speichermasse wird durch die Verwendung von Betondecken und dicken Ziegelwänden erreicht.
Damit die als Wärmespeicher ausgelegte Gebäudestruktur aktiv wirkt, resp. der angestrebte Wärmeaustausch zwischen Wand und Luft stattfinden kann, konnte diese nicht mit schallabsorbierenden Materialien verkleidet werden. So sind die Wände und Decken lediglich verputzt, auf Teppiche und die Aufbringung von akustikdämmenden Massnahmen musste verzichtet werden. Aus diesem Grund war es notwendig, bei der Auswahl der Möblierung, schallabsorbierende Materialen auszuwählen. Neben den klassischen Elementen wie Arbeitsplatztrennwänden und gepolsterten Stühlen, wurden zum Beispiel auch schallabsorbierende Leuchten verwendet.
Ein wichtiger Bestandteil des energetischen Konzepts bildet die Fassadenhülle. Diese ist als Einsteinmauerwerk konzipiert. Die im Verbandsmauerwerk erstellte Fassade bestehend aus einem statischen Ziegel (Porotherm N+F), einem isolierenden Ziegel (Porotherm H.i N+F) und dem aussen aufgebrachten Kalkputz erreicht einen Wärmedurchgangskoeffizient von 0.14W/m2K. Die 80cm dicke Fassadenhülle ist diffusionsoffen und fungiert als Filter zwischen Aussen- und Innenklima. Der statische Ziegel, der weniger stark dämmt, ist im Bezug zur Speicherfähigkeit der wichtigere Baustein des Fassadenaufbaus.
Wie die Aussenwände sind auch die Innenwände aus Backstein (25 SSZ HD) um von der hohen Speicherfähigkeit des gebrannten Lehms zu profitieren.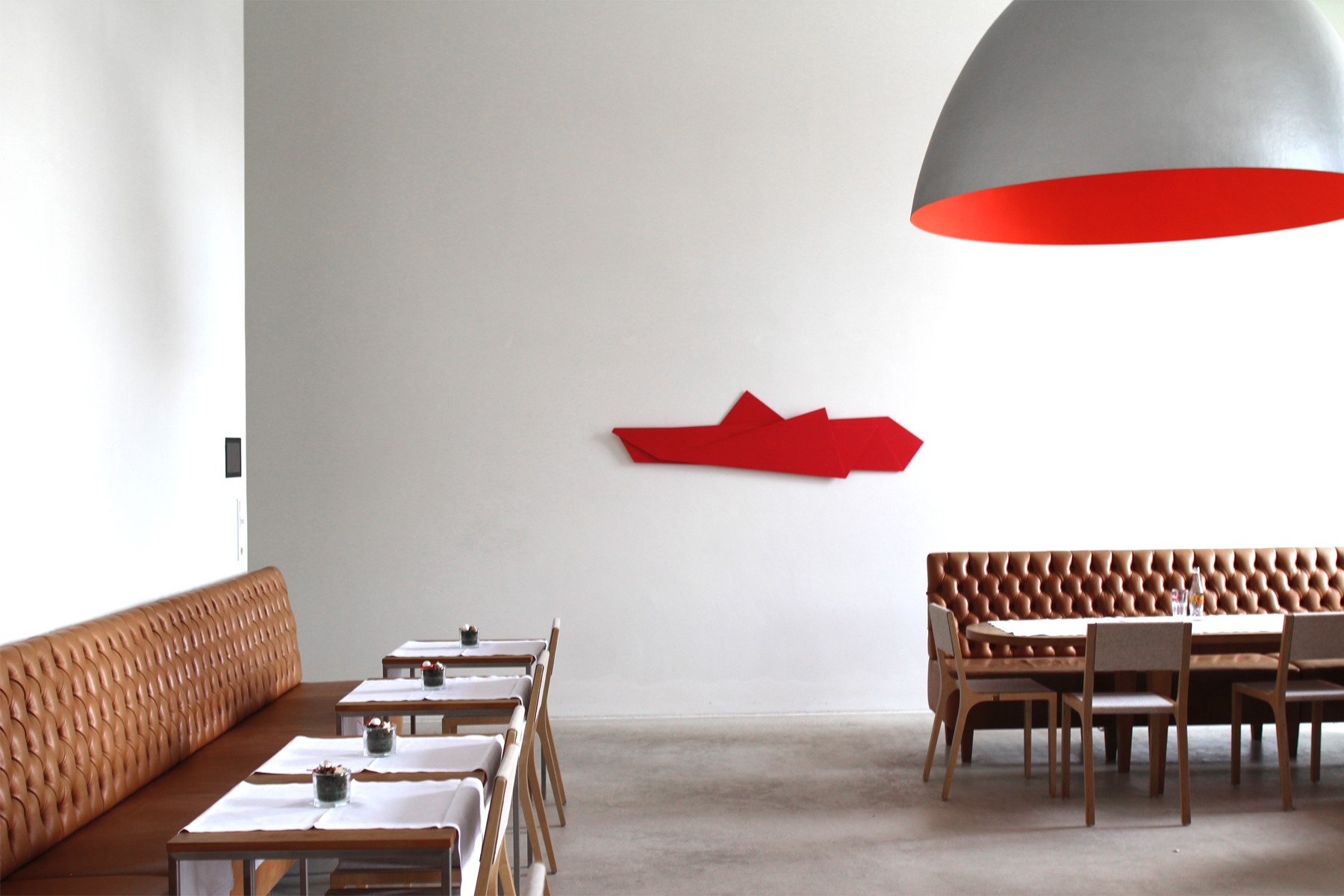 Lokale Ressourcen
Dass sich bei diesem Gebäude der Anspruch eines nachhaltigen Ansatzes nicht nur auf das energetische Konzept beschränkt scheint eine Selbstverständlichkeit. So wurde versucht, alle Materialien aus der nächsten Umgebung und möglichst ohne chemische Zusätze zu besorgen, damit die graue Energie, welche für Herstellung und Transport aufgewendet wird möglichst gering gehalten werden konnte.
Ziegelsteine von Wienberger, Wien (Tongruben und Ziegelwerke, Haiding, Distanz 385km; Fürstenfeld, Distanz 600km; Göllersdorf, Distanz 575km; Zwischenlager in Zirl, Distanz 170km)
Kalkputz ohne künstliche Farben (Kalk aus dem hinteren Bregenzerwald, Distanz 55km, gebrannt im Wallgau, Distanz190km)
Holzfenster (Weisstanne aus Hörbranz, Distanz 21km)
Fensterbänke aus Sandstein (Rohrschach, Distanz 8km)
Beleuchtung von Zumtobel, Dornbirn (Distanz 7km) (Umweltprodukterklärungen EPD für jedes Produkt)
Möbel aus Holz / lokale Manufaktur (Holz aus dem Bregenzer Wald, Distanz 55km)