(deutsche Version nachfolgend)
A key decision in the design process of Cristalerias Planell was the allocation of two patios (atriums) with intermediate greenhouse climates, as they form an integral part of the ventilation concept, as described in Take 1. The fresh incoming air has to pass through this 'buffer zone' before entering the classrooms and offices.
To achieve high flexibility to adapt to possible changes in future demands from users, compromises in building layout had to be accepted. According to Josep Ricart Ulldemolins, the most difficult part in the design process was to convince the client of the benefits of a non-specific layout, where the three different users would have to share the same staircase and the same bathrooms, in order to achieve the main goal, which was not to build a school for adult education, but rather to build a public building. This flexibility meant that not all specific functional demands could be met perfectly. As a consequence of this position or design strategy all service installations are exposed, which allows them to be adapted to future needs with minimal effort.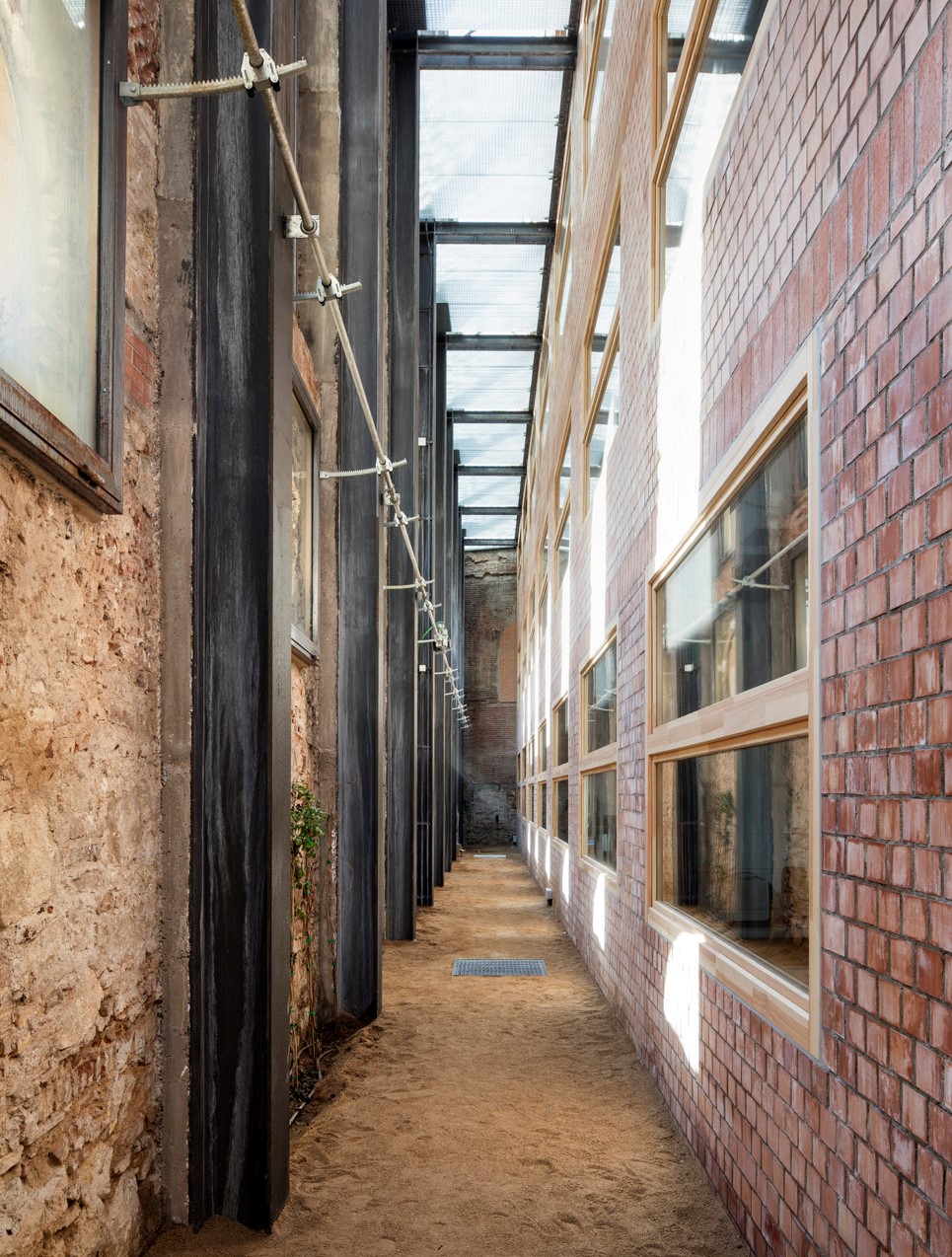 © Adrià Goula
The idea of building-in flexibility is embodied throughout the entire project, finding its most obvious expression in the fact that there are many more doors than rooms in the building. This, in combination with non-loadbearing walls, allows an easy adjustment of room sizes. Harquitectes use the combination of primary structural elements and secondary elements, such as service installations, ducts or technical equipment, to define a very precise architectural expression which goes far beyond the conventional. The simple floor plan contrasts with the diverse spatial qualities which are discovered when passing through the building.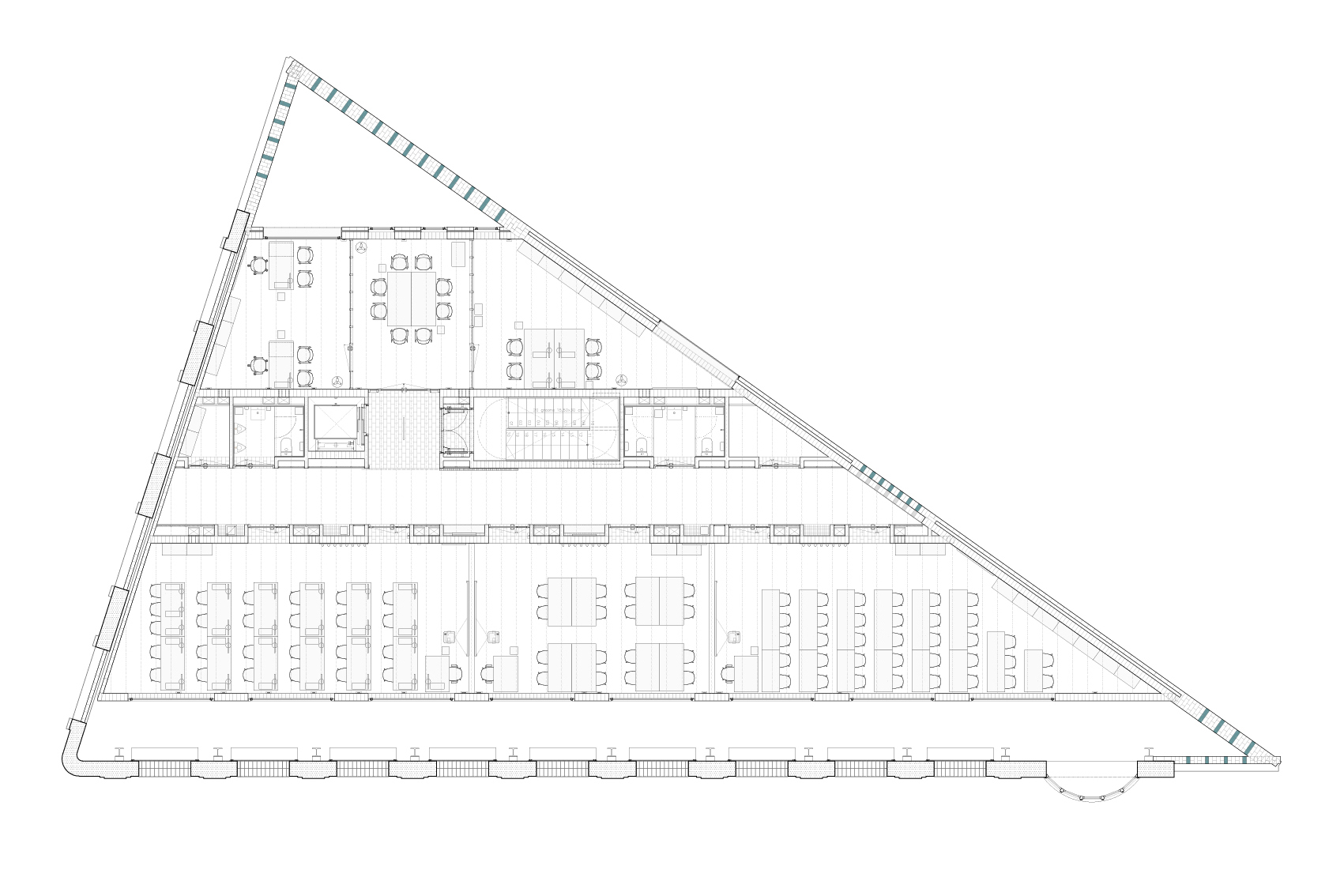 © Harquitectes
Thanks to Harquitectes and especially to Josep Ricart Ulldemolins, one of the founding partners, who shared the above information in a personal talk we had in April 2018 in Sabadell, Spain. Markus Elmiger 9.6.2018
Take 3: Flexibilität
Um eine hohe Flexibilität zu erreichen und sich an mögliche Änderungen der zukünftigen Anforderungen von Benutzern anzupassen zu können, mussten Kompromisse bei der Definition des Gebäudelayout in Kauf genommen werden. Gemäss Josep Ricart Ulldemolins bestand der schwierigste Teil des Designprozesses darin, die drei verschiedenen Nutzer von den Vorteilen eines unspezifischen Layouts zu überzeugen. Das unspezifische Layout führte dazu, dass die Nutzer gewisse Bereiche, wie das Treppenhaus und die Sanitärräume gemeinsam benutzen würden. Das Ziel der Architekten war es, nicht eine Schule für Erwachsenenbildung zu bauen, sondern ein öffentliches Gebäude, welches Nutzungsveränderungen zulässt.
Als Konsequenz dieser Position und Designstrategie sind alle Installationen sichtbar geführt, so dass sie mit minimalem Aufwand an zukünftige Anforderungen angepasst werden können.
Die Idee, flexibel zu bauen, wird durch das gesamte Projekt verkörpert und findet seinen offensichtlichsten Ausdruck in der Tatsache, dass es mehr Türen als Räume gibt, mit anderen Worten Räume mit mehreren Türen. Dies ermöglicht das Einziehen von Trennwänden und eine einfache Anpassung der Raumgrössen. Harquitectes verwenden die Kombination von primären Strukturelementen und sekundären Elemente, wie Installationen für die Gebäudetechnik, um einen sehr präzisen architektonischen Ausdruck zu definieren, der weit über das Herkömmliche hinausgeht. Der einfache Grundriss kontrastiert mit den vielfältigen räumlichen Qualitäten, die beim Durchschreiten des Gebäudes entdeckt werden können.
Herzlichen Dank an Harquitectes, besonders an Josep Ricard Ulldemolins, einer der Gründungspartner, der die vorangehenden Informationen im persönlichen Gespräch im April 2018 in Sabadell, Spanien teilte. Markus Elmiger 9.6.2018